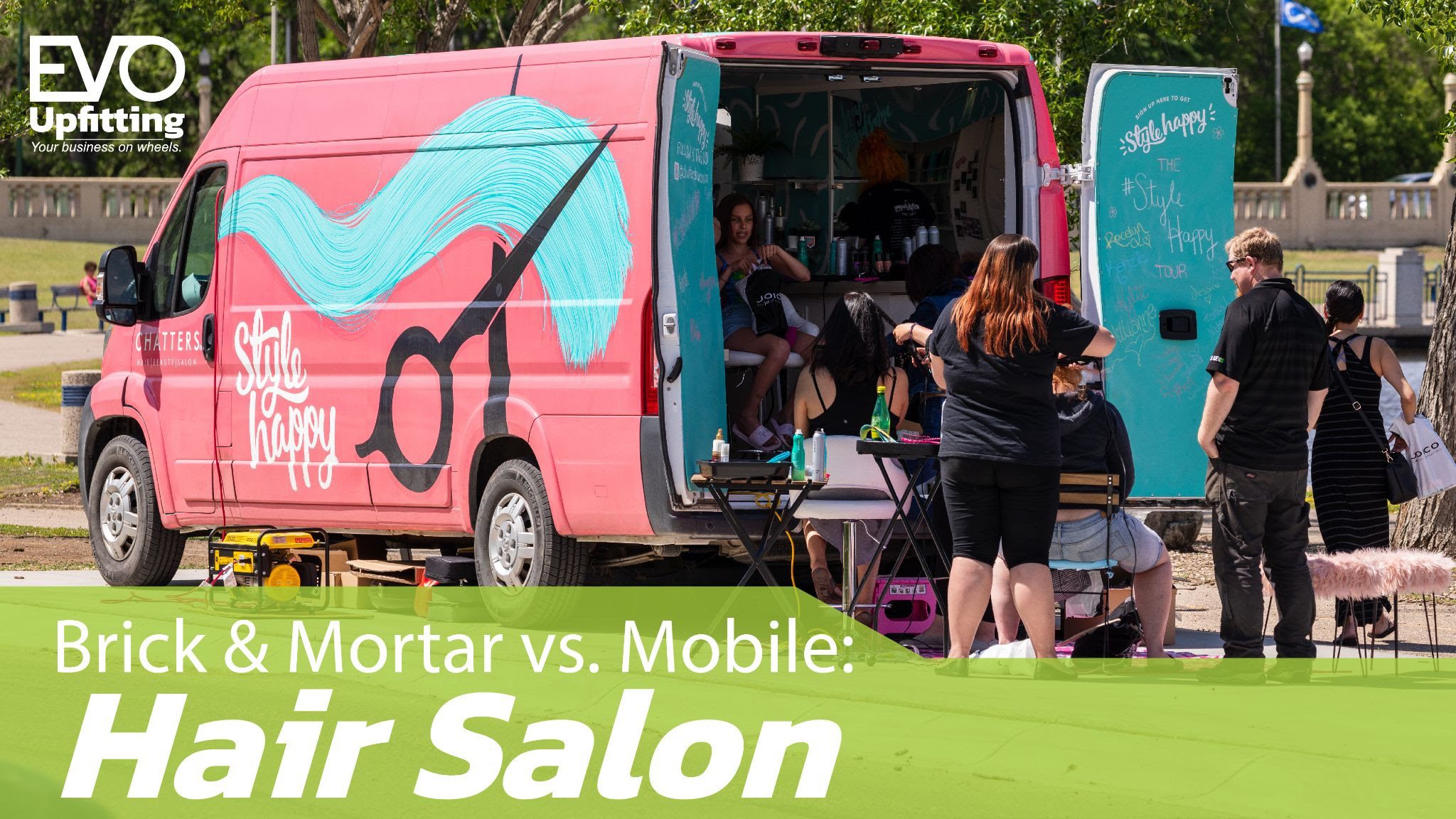 As we enjoy Summer 2021 and celebrate salon re-openings, we cannot forget about the questionable results of our DIY quarantine haircuts from the past year. Now, lifted capacity regulations encourage customers to come back for a professional, polished outcome.
If you're a seasoned hairstylist, now may be the right time to make an entrepreneurial move. We've weighed the positives and negatives of a traditional salon setting versus a modern mobile business operation below; You may be surprised to learn which one suits you and your clients!
Brick and Mortar Hair Salon
The Good
Location:

 A good location establishes the business's name and can bolster reputation in the immediate area. It can also lead to networking opportunities with other local businesses looking to accommodate your target audience.

Marketing:

 It is much easier to market services available in a single location through Google, word of mouth, and foot traffic. A permanent location can also be used as event space to cross-market and host specialized events.

Clients:

 

Depending on the size of your salon, you may have access to more clients at a time. If your dream is to scale your business and hire more stylists to accommodate your growing clientele, you may prefer to settle in somewhere permanent.

More Space:

 This comes with greater flexibility for choosing equipment and furniture due to a larger area. Some clients and stylists may enjoy the luxurious environment of a roomy salon. More space can also create opportunities for increased revenue. Many salons make additional income selling hair and cosmetic products.
The Bad
Location:

 Choosing the right location to station your salon can make or break your clientele and reputation. Many things should be considered before settling on a location, such as access to parking, neighborhood ratings, and distance to other salons. In most cases, it can be hard to bounce back from a failed location.

Cost:

 The cost of rent for such a brick-and-mortar unit can be extremely expensive. This is on top of the costs it requires to maintain inventory, payroll, and valid permits. One way to circumvent the lofty expenses is to split rent with a stylist you trust.  
Mobile Hair Salon
The Good
Flexible:

 A hair salon on wheels allows your business to be as flexible as you desire. Your ability to meet clients when and where they need you will go miles for customer satisfaction and loyalty. In an industry where relationships are everything, this is an unbeatable perk.

Affordable:

 Mobile salons can operate in prime spots for a fraction of the price of a traditional salon's rent. Even with van service costs and gasoline prices, a mobile salon still works out to be a more cost-effective option to service your clients. If you can pass on the savings to your customers, you may find great success.

Built-In Marketing:

 Since the mobile salon will have a branded exterior, your business can also save on marketing efforts. A wrapped van also serves as an excellent promotional tool as you travel around!
The Bad
Potential Expenses:

 Depending on how you choose to structure your business, traveling long distances for appointments can add up quickly. Your mobile hair salon may require more maintenance than a brick-and-mortar location, so be sure you are prepared to handle the necessary upkeep. Failure to do so may result in irreversible or costly damage to your van .

Size Limit:

 The reduced size of mobile salons also restricts the amount of equipment and inventory that can travel  on the road. However, this can be a great opportunity to niche down your services and become an expert in your field. If you can create a high enough demand for your service, the size limitation should not interfere with your income.
While the mobile hair salon comes with inevitable costs and responsibilities, this model has benefits that make it unique against others.To start your mobile hair salon business, you must first become licensed and insured. When you are ready for a premium van solution on a cost-friendly budget, contact the experts at EVO Upfitting.